I am very fortunate to have these links to Joni's website. Until quite recently she did not actually have one and a gentleman by the name of Bob Muller stepped in to fill this huge and unbelievable gap.
Well Bob has collected, collated and generally corrected this enormous gap in cyberspace, and for those of you very much in love with the music, you will probably find most folk mentioned here who have ever recorded or sung a Joni song, including yours truly! It's an honour & a privilege to be squeezed inbetween Bert Jansch & Keith Jarrett . . .
http://www.dannyparadise.com
Yoga Teacher to the good, & the great; friend, and unique singer/songwriter, I first met Danny at a Krishnamurti gathering way back in the mid 80's. It's strange to think of the 80's as having a kind of innocence, but in comparison with the present day, it was a positively naive era. Krishnamurti died at the great age of 96 some time ago, after talking, discussing, meeting
after meeting, gathering after gathering and even addressing the United Nations at one point, for over 60 years
http://www.ricardocurbelo.com/home.html
An old friend whose poetic realism I have always admired. Although Ricci, as I call him to myself, never to his face, works on the restaurant scene as well, he is much more of a Concert-performer. A very proud and sensitive Latin character now with new and self-built Harps ! I don't know how one builds a harp, but they look and sound amazing -
http://www.shootinghip.com
"An interestingly weird Digital Photo-guy I met @ Wedding..!"
This is a terrible way to describe a very talented and unique photographer, but

was

met at a wedding we were both doing. He has the proof, I only have very sketchy memories. Take a look at his site. Now this is one hell-of-a-website, which is all him. the unfortunate caption I had up on my site for a few months. Robert Burress and I
It shows off his sense of humour, general approach and empathy for his very varied clients.
http://www.anviltearooms.co.uk - website unavailable / address below
I think this one particular place is worth travelling to from any distance. Apart from the food, the building, the ambience and the general location, everything that you will encounter here has been created by Mr. Fred Woodfine, as fine a 'Shakespearean' character, as you could find on any London stage, except that he is the real thing! Fred creates and has created most of what goes on in these premises, although I am sure that family support has played a huge role in this remarkable Cafe/restaurant /tearoom/coffehouse/wine-merchant's and all-round pleasing pit-stop for those in need of some much sought after mental and moral refreshment. One leaves reluctantly and in a way which can only be described as 'lifted', as Fred is one of those rarities who has the capacity to lighten ones spirit just by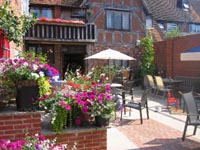 being there and exuding his
normal amount of good nature. Even more than that though, and as it says on the menu, you must try:
FRED'S WORLD FAMOUS BREAD AND BUTTER PUDDING
We absolutely insist you have cream!!!
Also: Just In Case - Wine Merchants /
The Anvil Tearooms & Coffee Shop
-

contact:
justincasebw@yahoo.co.uk
/ Tel/fax: 01489 892969
Symes Corner, Bank Street, Bishops Waltham, Hampshire, SO32 1AN
http://www.tenorandbaritone.co.uk
are
Charles Wood and Tim Davies. I recently played a garden-party for Tim. It was a typical British summer,
nothing but drizzle, slowly converting to rain and on to the inevitable floods . . but under the marquee we were oblivious to all except the good food,
wine, female company of all ages and song, that was my humble contribution to events. Later it transpired that Tim and mate Charles do this so-called 'amateur' Victorian-tinged musical duo. Well, while I was playing I slowly discovered that the true spirit of music is alive and well and residing in East Preston, near the south coast of what is often sunny England. People like Tim, with that very dry sense of humour, are a god-send for people like me,
world-weary, so-called professional musicians, hanging on to that first sense & spirit that is the essence of music. I rediscovered something.
When I know what it was, I'll be the first to know . . . listen in to the website.
(website unavailable)
http://www.ladyluckfuncasinos.co.uk
- an unusual company, if only for David Kelly, a man of extremely good musical taste. Well, he liked what I was doing at a 60th birthday party in Otterbourne quite recently, and taught me one valuable lesson:
never
play roulette unless you have more money than brains! This is a SMART outfit in appearance & acumen and you can look them over @ the link above and on the
photo links page
-
Glad to have found this link to
Ivania Elena.
an old friend
- scroll down the page


See
LINKPhotos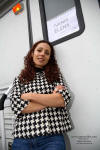 Ivania Elena -
li-safe.com/Expresso/ExpressoCast.htm